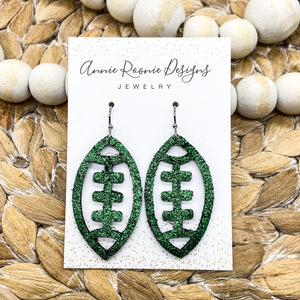 SIZES: Large (2.25 inches), Small (2 inches)
Length measured from top of hook to bottom of earring.
Choose custom color by typing in your preferred color. Please leave a good contact number or email as I will send pics of my available leathers in that color for your confirmation prior to making the earrings. 
Hooks are stainless steel and are available in silver, antique bronze, and gold  
Sterling silver and 14k gold filled hooks available for an extra $2 charge per pair. Choose these options under the section title "Specialty hooks" to pay the additional charge and to specify which pair get the specialty hooks.