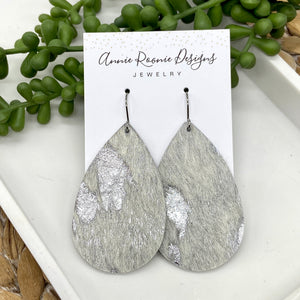 This acid wash leather has the hair still on the leather, giving these earrings a fun texture and making them a unique piece of jewelry!
SIZES: Large (3 inches), Medium (2.5 inches), Small (2 inches).
Length measured from top of hook to bottom of earring.
Hooks are surgical stainless steel. Available in silver, gold, and antique bronze. 

Sterling silver and 14k gold filled hooks available for an extra $2 charge per pair. Choose these options under the section title "Specialty hooks" to pay the additional charge and to specify which pair get the specialty hooks.